Posts Tagged 'Beth Meacham'
Eight essential questions answered by the pros for beginning writers.
Featured Book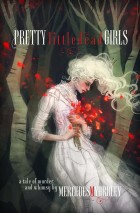 Bryony Adams is destined to be murdered, but fortunately Fate has terrible marksmanship. Mercedes M. Yardley's Pretty Little Dead Girls: A Novel of Murder and Whimsy is a dark, lovely fairy tale with lyrical language and a high body count.
Featured Member
Susan R. Matthews
Susan's been working on the Jurisdiction series for more years than she cares to specify. Now that she's retired from her day job she's calling herself a full-time author in shameless disregard of the facts.