Posts Tagged 'Beth Meacham'
Eight essential questions answered by the pros for beginning writers.
Featured Book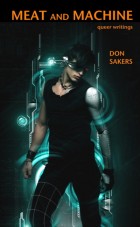 Don Sakers has been queering science fiction and fantasy for three decades. Meat and Machine collects 24 short pieces of science fiction, fantasy, nonfiction, and erotica from across his career.
Featured Member
Vylar Kaftan
Vylar Kaftan has published about 40 short stories in places such as Asimov's, Clarkesworld, and Lightspeed. She was nominated for a Nebula in 2011. She's the founder of FOGcon, a new sf/f literary convention in the San Francisco Bay Area.