Posts Tagged 'Beth Meacham'
Eight essential questions answered by the pros for beginning writers.
Featured Book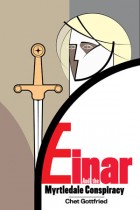 Sixteen-year-old Einar goes to Myrtledale and into a whirlwind of tournaments, assassins, and Barbara Bloodbath's plan for a new ice cream parlor. The tournaments and bake-off contest may end in civil war before any winners are declared.
Featured Member
R.S. Mellette
Author of Billy Bobble Makes A Magic Wand and numerous short stories, R.S. Mellette also wrote "The Xena Scrolls" for Universal's web site for Xena: Warrior Princess. An episode of the same name became the 1st web-to-TV intellectual property.