Nothing found
Featured Book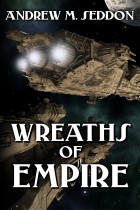 The ultimate weapon.
The peace of the galaxy.
One woman.
Naval Intelligence Commander Jade Lafrey uncovers a conspiracy that could devastate either human worlds or their alien enemies'.
Featured Member
Kay Kenyon
Kay Kenyon is the author of 11 sf/f novels including her fantasy, A Thousand Perfect Things, August 2013. Her work has been short-listed for the Philip K. Dick Award and John W. Campbell awards.