Nothing found
Featured Book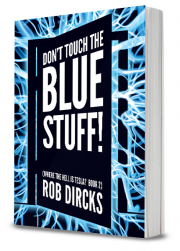 SOMETHING CALLED THE "BLUE JUICE" IS COMING. FOR ALL OF US. Luckily, me (Chip Collins), Pete, Nikola Tesla, Bobo, and FBI Agent Gina Phillips are here to kick its a**, and send it back to last Tuesday. Maybe. Or maybe we'll fail. We'll see.
Featured Member
Michael R. Underwood
Michael writes across the speculative fiction world, from urban fantasy (Geekomancy), to fantasy superhero novel Shield and Crocus, and the SF series in novellas, Genrenauts. He is a co-host on podcasts The Skiffy & Fanty Show and Speculate.