Nothing found
Featured Book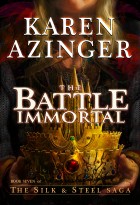 The Battle Immortal is a time when long-foretold prophecies live and die, when magic runs wild, and legends clash with nightmares. This fast-paced epic fantasy is the 7th and final book to The Silk & Steel Saga.
Featured Member
Alma Alexander
Alma Alexander is a novelist, anthologist and short story writer who currently shares her life between the Pacific
Northwest of the USA (where she lives with her husband and a cat) and the wonderful fantasy worlds of her own imagination.