Posts Tagged 'Charles Vess'
Industry News and Member News for Cat Sparks, Alethea Kontis, and Allan Cole.
Featured Book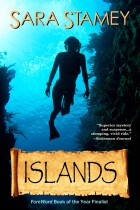 "Welcome to Paradise," archeologist Susan Dunne hears on arrival at the Caribbean island to research petroglyphs and investigate her brother's drowning. She follows dangerous clues in her psychic visions, leading to a violent cult and sunken treasure
Featured Member
Larry Hodges
Larry Hodges is an active member of SFWA with 60+ story sales. His first novel "Sorcerers in Space" came out in 2013 from Class Act Books. He's an Odyssey Writers Workshop graduate and full-time writer with seven books and 1400+ published articles.