Posts Tagged 'Clarkesworld'
Member News for Harry Connolly and Clarkesworld!
Featured Book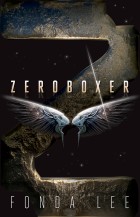 "Rocky meets Gattaca" in the story of Carr "the Raptor" Luka, a young man battling to make it to the top in the world of zero gravity prizefighting amid brewing interplanetary conflict between Earth and Mars.
Featured Member
Fran Wilde
Fran Wilde is an author and technology consultant. Her first novel, UPDRAFT, debuts from Tor in September 2015. Her short stories appear in Asimov's, Beneath Ceaseless Skies, and Tor.com. She also produces Cooking the Books.