Posts Tagged 'Clarkesworld'
Member News for Harry Connolly and Clarkesworld!
Featured Book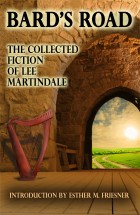 Twenty-nine short stories by Lee Martindale, including reprints from major anthologies and four never-before-published works. Introduction by Esther M. Friesner, cover art by Melanie Fletcher.
Featured Member
Rachael Acks
Rachael Acks is a author, geologist, and dapper sir who writes steampunk mystery and adventure novellas for Musa Publishing. She's also had numerous short stories published. She lives in Houston where the bikes, twirls her mustache, and dances.