Nothing found
Featured Book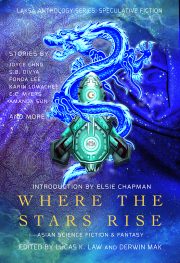 Take a journey through Asia and beyond to explore about identities, belonging, and choices.
". . . this collection is essential for anyone interested in the diverse and engaging possibilities of fantasy and science fiction." — Booklist
Featured Member
Andrew P. Weston
Andrew P. Weston lives with a large amount of cats in a medium sized house on a small Greek island. He is the author of the IX Series and creator of Daemon Grim, a prominent character within Janet Morris' Heroes in Hell Universe.