Posts Tagged 'Costi Gurgu'
Member News for Suzanne Johnson, Julie Washington, Costi Gurgu, and Tom Rodgers!
Featured Book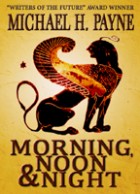 The young sorceress Larissa Noon believes that Andeer's Goddess Queen, banished 500 years ago before the mad sphinx could destroy the world, is now cured and ready to return from limbo. Larissa's the only one who believes this, though…
Featured Member
Fran Wilde
Fran Wilde is an author and technology consultant. Her first novel, UPDRAFT, debuts from Tor in September 2015. Her short stories appear in Asimov's, Beneath Ceaseless Skies, and Tor.com. She also produces Cooking the Books.