Posts Tagged 'David M. Harris'
Eight essential questions answered by the pros for beginning writers.
Featured Book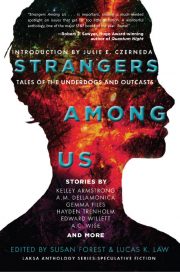 Explore the delicate balance between mental health and mental illness in 19 thought-provoking and moving stories by Kelley Armstrong, A.M. Dellamonica, Gemma Files, James Alan Gardner, Edward Willett, A.C. Wise and more. Intro by Julie E. Czerneda.
Featured Member
Barbara A. Barnett
Barbara A. Barnett is a writer, musician, librarian, Odyssey Writing Workshop alum, coffee addict, wine lover, bad movie mocker, and all-around geek with over 40 short stories published.