Posts Tagged 'David M. Harris'
Eight essential questions answered by the pros for beginning writers.
Featured Book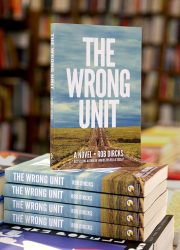 Rob Dircks, bestselling author of Where the Hell is Tesla?, has a "unit" with a problem: how to deliver his package, out in the middle of nowhere, with nothing to guide him. Oh, and with the fate of humanity hanging in the balance.
Featured Member
Sarina Dorie
Sarina Dorie has sold over eighty-five short stories to markets like Daily Science Fiction, Magazine of Fantasy and Science Fiction, Orson Scott Card's IGMS, and Cosmos. Her novels include: SILENT MOON, DAWN OF THE MORNING STAR, and URBAN CHANGELING.