Posts Tagged 'David M. Harris'
Eight essential questions answered by the pros for beginning writers.
Featured Book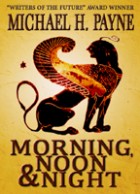 The young sorceress Larissa Noon believes that Andeer's Goddess Queen, banished 500 years ago before the mad sphinx could destroy the world, is now cured and ready to return from limbo. Larissa's the only one who believes this, though…
Featured Member
Milo James Fowler
Milo James Fowler is a teacher by day and a speculative fictioneer by night. When he's not grading papers, he's imagining what the world might be like in a few dozen alternate realities.