Posts Tagged 'Edward Willet'
Resources and Member News for Edward M. Lerner.
Featured Book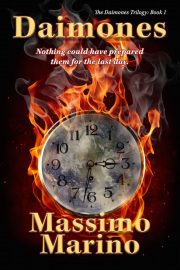 Murder, genocide, the Apocalypse.
Explore the future of humanity in Massimo Marino's sci-fi debut, Daimones, an apocalyptic tale that feels like it could happen tomorrow. You may never sleep through a windstorm again.
Featured Member
Massimo Marino
Marino is a scientist envisioning science fiction.
He contributed to the experiments at CERN and The Lawrence Berkeley Lab, then accepted leading positions at Apple, Inc., and at the World Economic Forum. Tweets from @Massim0Marin0