Posts Tagged 'Edward Willet'
Resources and Member News for Edward M. Lerner.
Featured Book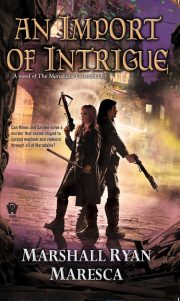 The Little East: a collision of foreign cultures and traditions, sequestered away in the city of Maradaine. When a foreign dignitary is murdered, the case falls upon the least popular inspectors in the Constabulary: Satrine Rainey and Minox Welling.
Featured Member
Curtis C. Chen
Once a Silicon Valley software engineer, CURTIS C. CHEN now writes fiction near Portland, Oregon. His debut novel WAYPOINT KANGAROO is a science fiction spy thriller about a superpowered secret agent facing his toughest mission yet: vacation.
Recent Comments