Posts Tagged 'Erin Cashier'
Member news for Erin Cashier, Justin Howe and Jennifer Brozek!
Featured Book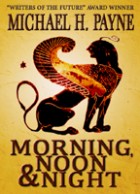 The young sorceress Larissa Noon believes that Andeer's Goddess Queen, banished 500 years ago before the mad sphinx could destroy the world, is now cured and ready to return from limbo. Larissa's the only one who believes this, though…
Featured Member
Sharon Lynn Fisher
Tor author Sharon Lynn Fisher is an RWA RITA Award finalist and a 3-time RWA Golden Heart Award finalist. She lives in the Pacific Northwest, where she writes books for the geeky at heart – sci-fi stories full of adventure and romance.