Posts Tagged 'Erin Cashier'
Member news for Erin Cashier, Justin Howe and Jennifer Brozek!
Featured Book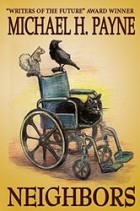 Gus Lancer's peculiar neurological condition has paralyzed him from the waist down and strangled his speech, but he's recently discovered that he can apparently communicate with animals.  This leads him into more adventures than he expects.
Featured Member
Paul Levinson
Paul Levinson, PhD, wrote The Silk Code (winner of Locus Award for Best First 1st Novel of 1999), Borrowed Tides (2001), The Consciousness Plague (2002), The Pixel Eye (2003), The Plot To Save Socrates (2006), and Unburning Alexandria (2013)