Posts Tagged 'Erin Cashier'
Member news for Erin Cashier, Justin Howe and Jennifer Brozek!
Featured Book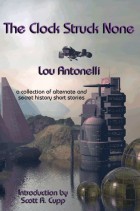 A collection of alternate and secret history short stories. From airships lost between universes, to golems winning the fight against racism, Lou Antonelli explains ways the world might have been. Includes Sidewise Award finalist "Great White Ship".
Featured Member
Sharon Lynn Fisher
Tor author Sharon Lynn Fisher is an RWA RITA Award finalist and a 3-time RWA Golden Heart Award finalist. She lives in the Pacific Northwest, where she writes books for the geeky at heart – sci-fi stories full of adventure and romance.