Nothing found
Featured Book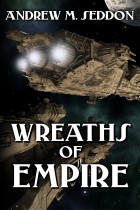 The ultimate weapon.
The peace of the galaxy.
One woman.
Naval Intelligence Commander Jade Lafrey uncovers a conspiracy that could devastate either human worlds or their alien enemies'.
Featured Member
Vera Nazarian
Vera Nazarian is a two-time Nebula Award Nominee, award-winning artist, and the author of the Cobweb Bride Trilogy and the Supernatural Jane Austen Series, in addition to numerous other novel-length and short works of fiction and fancy.