Posts Tagged 'Gary Kloster'
Industry news and member news for Gary Kloster and Paolo Bacigalupi!
Featured Book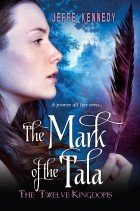 Tales tell of three sisters, daughters of the high king. No one says much about the middle princess until the day she meets a strange man who rules a land of shapeshifters and demons. A country no more than legend-until he claims her as its queen.
Featured Member
Bonnie Jo Stufflebeam
Bonnie Jo Stufflebeam lives in Texas with her partner and two literarily-named cats: Gimli and Don Quixote. Her fiction has appeared or is forthcoming in magazines such as Clarkesworld, Lightspeed, Strange Horizons, and Interzone. She holds an MFA in