Posts Tagged 'Gary Kloster'
Industry news and member news for Gary Kloster and Paolo Bacigalupi!
Featured Book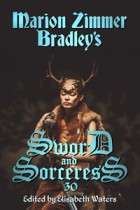 This volume of the anthology series, edited by Elisabeth Waters and now in its third decade of publication, includes stories by Robin Wayne Bailey, Deborah J. Ross, Michael H. Payne, Catherine Soto, and many others.
Featured Member
Lawrence M. Schoen
Dr. Lawrence M. Schoen has been nominated for the Campbell, Hugo, and Nebula awards, is a world authority on the Klingon language, a hypnotherapist specializing in authors' issues, and writes about life, death, and the continua between the two.