Posts Tagged 'Gary Kloster'
Industry news and member news for Gary Kloster and Paolo Bacigalupi!
Featured Book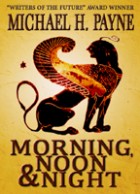 The young sorceress Larissa Noon believes that Andeer's Goddess Queen, banished 500 years ago before the mad sphinx could destroy the world, is now cured and ready to return from limbo. Larissa's the only one who believes this, though…
Featured Member
Lee Gimenez
Lee Gimenez is the author of eight novels and over fifty short stories. Several of his books became bestsellers, including BLACKSNOW ZERO, and THE NANOTECH MURDERS. His latest thriller, THE WASHINGTON ULTIMATUM, was published in 2013.