Posts Tagged 'Geir Lanesskog'
Member News for John Arkwright, Geir Lanesskog, and Douglas Hulick.
Featured Book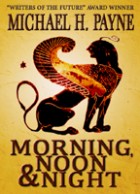 The young sorceress Larissa Noon believes that Andeer's Goddess Queen, banished 500 years ago before the mad sphinx could destroy the world, is now cured and ready to return from limbo. Larissa's the only one who believes this, though…
Featured Member
Rachael Acks
Rachael Acks is a author, geologist, and dapper sir who writes steampunk mystery and adventure novellas for Musa Publishing. She's also had numerous short stories published. She lives in Houston where the bikes, twirls her mustache, and dances.