Nothing found
Featured Book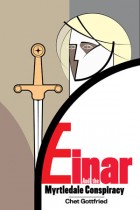 Sixteen-year-old Einar goes to Myrtledale and into a whirlwind of tournaments, assassins, and Barbara Bloodbath's plan for a new ice cream parlor. The tournaments and bake-off contest may end in civil war before any winners are declared.
Featured Member
Christine Taylor-Butler
An MIT trained civil engineer with a second degree in Art & Design, Christine decided writing was a higher calling. After 75 published books, she sold her first young adult series, The Lost Tribes. She lives in Kansas City and is working on book 2.