Posts Tagged 'Gill'
David Macinnis Gill lives on the Carolina coast. SOUL ENCHILADA is his debut novel.
Featured Book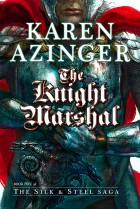 Sorely beleaguered, the Octagon Knights fight with valor, but this war is much more than a contest of swords…it is a battle of souls. The players are being positioned for the Battle Immortal, an epic struggle of Light and Dark.
Featured Member
Tor author Sharon Lynn Fisher is an RWA RITA Award finalist and a 3-time RWA Golden Heart Award finalist. She lives in the Pacific Northwest, where she writes books for the geeky at heart – sci-fi stories full of adventure and romance.