Nothing found
Featured Book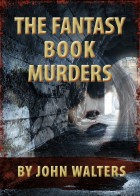 After a famous fantasy writer is murdered in his castle-like mansion, two unlikely investigators discover evidence of a serial killer. As they uncover the backgrounds of the victims, the truth resembles the writer's most bizarre and horrific fiction.
Featured Member
Dave Creek
Dave Creek is a regular contributor to ANALOG. His books include two short story collections — A GLIMPSE OF SPLENDOR and THE HUMAN EQUATIONS — and a novel, SOME DISTANT SHORE.
Find out more about Dave's work at www.davecreek.net.