Posts Tagged 'Glenn Hauman'
Eight essential questions answered by the pros for beginning writers.
Featured Book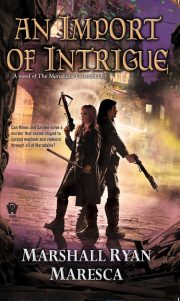 The Little East: a collision of foreign cultures and traditions, sequestered away in the city of Maradaine. When a foreign dignitary is murdered, the case falls upon the least popular inspectors in the Constabulary: Satrine Rainey and Minox Welling.
Featured Member
Jeffe Kennedy
Jeffe Kennedy is an award-winning author and scientist. Her works include non-fiction, poetry, short fiction, and novels. She lives in Santa Fe, NM, with two Maine coon cats, plentiful free-range lizards and a handsome Doctor of Oriental Medicine.