Posts Tagged 'Gregory Feeley'
Eight essential questions answered by the pros for beginning writers.
Featured Book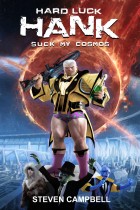 Life is tough on the space station Belvaille. When the wife of a City Councilman approaches Hank about spying on her husband, Hank worries he's flying too close to the flames for safety. When the husband is assassinated, he's sure of it.
Featured Member
Lucienne Diver
Lucienne Diver is both a literary agent and author of young adult and adult fiction (the Vamped series for Flux Books and the Latter-Day Olympians novels for Samhain). She's also written short fiction for anthologies like Kicking It (coming from Roc)