Nothing found
Featured Book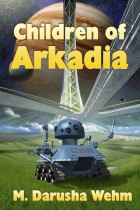 Arkadia, one of four space stations orbiting Jupiter, was to be a haven for all who fought the corrupt systems of Earth, where both humans and Artificial Intelligences could be happy and free. But which will prove more powerful: freedom or happiness?
Featured Member
Dave Creek
Dave Creek is a regular contributor to ANALOG. His books include two short story collections — A GLIMPSE OF SPLENDOR and THE HUMAN EQUATIONS — and a novel, SOME DISTANT SHORE.
Find out more about Dave's work at www.davecreek.net.
Recent Comments