Nothing found
Featured Book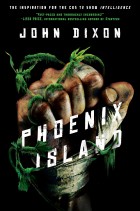 The inspiration for the new CBS TV series INTELLIGENCE.
A tough kid in an isolated boot camp that's turning orphans into super soldiers risks everything to save his friends and stop a madman bent on global destruction.
Featured Member
Adam Christopher
Adam Christopher is the Sir Julius Vogel Award-winning author of Empire State (SciFiNow magazine Book of the Year 2012 and a Financial Times Book of the Year 2012), Seven Wonders, The Age Atomic, Hang Wire, and The Burning Dark.