Nothing found
Featured Book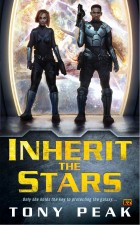 Kivita's latest contract to find an alien relic is the adventure she craves, but her employer has hired Sar Redryll—her former lover—to stop her at any cost. After the relic unleashes powerful abilities in her, human & alien alike hunt her down.
Featured Member
Christine Taylor-Butler
An MIT trained civil engineer with a second degree in Art & Design, Christine decided writing was a higher calling. After 75 published books, she sold her first young adult series, The Lost Tribes. She lives in Kansas City and is working on book 2.
Recent Comments