Posts Tagged 'hugo awards'
Anticipation is pleased to announce the Hugo winners for 2009.
Featured Book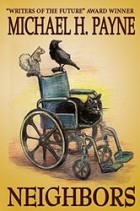 Gus Lancer's peculiar neurological condition has paralyzed him from the waist down and strangled his speech, but he's recently discovered that he can apparently communicate with animals.  This leads him into more adventures than he expects.
Featured Member
Adam Christopher
Adam Christopher is the Sir Julius Vogel Award-winning author of Empire State (SciFiNow magazine Book of the Year 2012 and a Financial Times Book of the Year 2012), Seven Wonders, The Age Atomic, Hang Wire, and The Burning Dark.