Posts Tagged 'hugo awards'
Anticipation is pleased to announce the Hugo winners for 2009.
Featured Book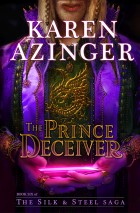 Deceive, divide, corrupt and conquer. Armies sharpen their weapons for a battle of swords while the Mordant engages in a battle of souls in this epic fantasy written in the style of Game of Thrones. Presenting book 6 of The Silk & Steel Saga.
Featured Member
Lisa Mason
Lisa Mason's new collection, Strange Ladies: 7 Stories features science fiction and fantasy shorts published in top magazines and anthologies worldwide. The San Francisco Book Review said, "This is a must-read collection."