Posts Tagged 'humor'
Article with * should be noted for humor.
Featured Book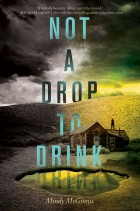 NOT A DROP TO DRINK is a post-apocalyptic survival tale set in a world where freshwater is almost nonexistent.
Featured Member
Tracy S. Morris
When Tracy S. Morris was four years old, she wrote her first "novel" in crayon on the back of a newspaper and gave it to the postman along with an antique silver dollar so that someone could turn it into a novel. She is still waiting to hear back.