Posts Tagged 'humor'
Article with * should be noted for humor.
Featured Book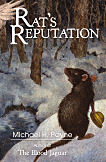 Abandoned as a kit, found by gypsy squirrels, raised among the mouse clans of Ottersgate island, Rat has tried all his life to fit in. Things just never seems to quite work out for him, though…
Featured Member
Jim C. Hines
Jim Hines writes books about magic librarians, action-hero princesses, nearsighted goblins, flaming spiders, and more. (Generally not all in the same book.) He's also sold close to 50 short stories.