Posts Tagged 'humor'
Article with * should be noted for humor.
Featured Book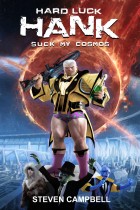 Life is tough on the space station Belvaille. When the wife of a City Councilman approaches Hank about spying on her husband, Hank worries he's flying too close to the flames for safety. When the husband is assassinated, he's sure of it.
Featured Member
Michael J. Martinez
Michael J. Martinez is the author of the DAEDALUS trilogy, as well as other assorted bits of science fiction and fantasy. He's still slightly stunned that he's being paid to write this stuff, but will keep going until someone says otherwise.