Posts Tagged 'humor'
Article with * should be noted for humor.
Featured Book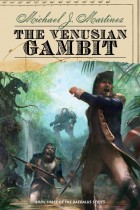 In the thrilling conclusion to the DAEDALUS trilogy, Lord Admiral Thomas Weatherby must defy the English crown and battle the French on Venus in order to stop an ancient evil from rising once more.
Featured Member
Don Chase
Born, raised and still living just outside of Boston, Don attended the Art Institute of Boston for illustration and decided that he liked writing better. Now he has six books total that he self publishes with number seven on the way.