Posts Tagged 'humor'
Article with * should be noted for humor.
Featured Book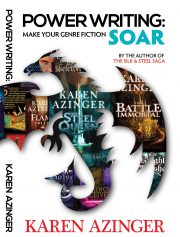 Learn how to write bold genre fiction that will enthrall your readers. Novice writers learn about 'tells' that warn agents of amateur writing. Veterans discover the flavors of world building and description from the eye of the beholder.
Featured Member
Steven Gould
Steven Gould is the New York Times Bestselling author of the Jumper Series: JUMPER, REFLEX, IMPULSE, and EXO, as well as the stand alone novels, 7th SIGMA, WILDSIDE, HELM, and BLINDWAVES.