Posts Tagged 'humor'
Article with * should be noted for humor.
Featured Book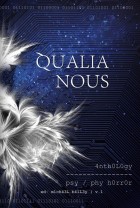 A literary blend of science fiction and horror, Qualia Nous contains short stories, novelettes, and poetry from established authors and newcomers from around the world. Featuring the imaginations of Stephen King, Gene O'Neill, William F. Nolan, and others.
Featured Member
Laura Anne Gilman
Laura Anne Gilman is the Nebula-nominated author of the Vineart War trilogy, the "Cosa Nostradamus" urban fantasy series, and a few other works, including the occasional short story. Under the name L.A. Kornetsky, she also writes mysteries.