Posts Tagged 'James Brunet'
Eight essential questions answered by the pros for beginning writers.
Featured Book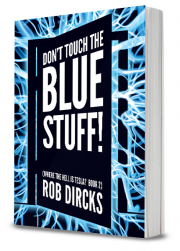 SOMETHING CALLED THE "BLUE JUICE" IS COMING. FOR ALL OF US. Luckily, me (Chip Collins), Pete, Nikola Tesla, Bobo, and FBI Agent Gina Phillips are here to kick its a**, and send it back to last Tuesday. Maybe. Or maybe we'll fail. We'll see.
Featured Member
William Alan Webb
I'm a southern boy who would prefer to remain a teenager but whose body isn't cooperating. I wrote my first (unpublished, aka bad) novel 35 years ago. My second has done better. Military SF, military history and sword & sorcery pour from my fingers.