Posts Tagged 'Jen Hilton'
Resources, Industry News, and Member News for Jen Hilton and Ryan Harvey!
Featured Book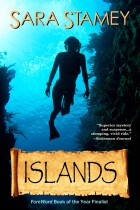 "Welcome to Paradise," archeologist Susan Dunne hears on arrival at the Caribbean island to research petroglyphs and investigate her brother's drowning. She follows dangerous clues in her psychic visions, leading to a violent cult and sunken treasure
Featured Member
Kay Kenyon
Kay Kenyon is the author of 11 sf/f novels including her fantasy, A Thousand Perfect Things, August 2013. Her work has been short-listed for the Philip K. Dick Award and John W. Campbell awards.