Posts Tagged 'John Arkwright'
Member News for John Arkwright, Geir Lanesskog, and Douglas Hulick.
Featured Book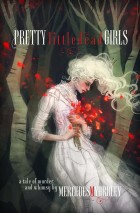 Bryony Adams is destined to be murdered, but fortunately Fate has terrible marksmanship. Mercedes M. Yardley's Pretty Little Dead Girls: A Novel of Murder and Whimsy is a dark, lovely fairy tale with lyrical language and a high body count.