Posts Tagged 'John Arkwright'
Member News for John Arkwright, Geir Lanesskog, and Douglas Hulick.
Featured Book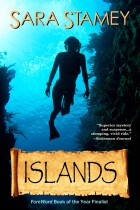 "Welcome to Paradise," archeologist Susan Dunne hears on arrival at the Caribbean island to research petroglyphs and investigate her brother's drowning. She follows dangerous clues in her psychic visions, leading to a violent cult and sunken treasure
Featured Member
Barbara A. Barnett
Barbara A. Barnett is a writer, musician, librarian, Odyssey Writing Workshop alum, coffee addict, wine lover, bad movie mocker, and all-around geek with over 40 short stories published.