Posts Tagged 'Judith Tarr'
Eight essential questions answered by the pros for beginning writers.
Featured Book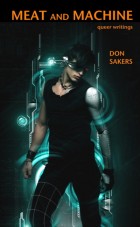 Don Sakers has been queering science fiction and fantasy for three decades. Meat and Machine collects 24 short pieces of science fiction, fantasy, nonfiction, and erotica from across his career.
Featured Member
Weston Ochse
Bram Stoker-winning Weston Ochse is the author of more than 20 books, including Grunt Life, SEAL Team 666, and Age of Blood. He is a military veteran with 30 years of service and has recently returned from a deployment to Afghanistan.