Posts Tagged 'Ken Brady'
Member News for Tom Crosshill, Ari Marmell, Jane Yolen, Yasmine Galenorn, and Ken Brady!
Featured Book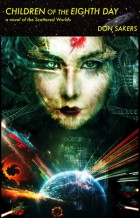 Rikk Hoister and his cousins are the pinnacle of human evolution, cloned geniuses with powerful paranormal abilities. Life is good–until ships and soldiers of the Terran Empire invade their homeworld and take most of the Hoister Family captive.
Featured Member
Tracy S. Morris
When Tracy S. Morris was four years old, she wrote her first "novel" in crayon on the back of a newspaper and gave it to the postman along with an antique silver dollar so that someone could turn it into a novel. She is still waiting to hear back.