Nothing found
Featured Book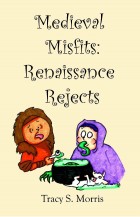 Swashbuckling heroes, brave deeds, daring do, beautiful Heroines – you won't find any of that in Medieval Misfits. The book takes some bumbling humans with few good looks and fewer skills, puts them into ridiculous situations.
Featured Member
Wesley Chu
Wesley Chu was born in Taiwan and immigrated to Chicago, Illinois when he was just a pup. It was there he became a Kung Fu master and gymnast.
Wesley is an avid gamer and a contributing writer for the magazine Famous Monsters of Filmland. A former stunt man and a member of SAG, he can also be seen in film and television.