Nothing found
Featured Book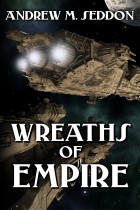 The ultimate weapon.
The peace of the galaxy.
One woman.
Naval Intelligence Commander Jade Lafrey uncovers a conspiracy that could devastate either human worlds or their alien enemies'.
Featured Member
David D. Levine
David D. Levine is the author of novel Arabella of Mars (Tor 2016) and over fifty science fiction and fantasy stories. His story "Tk'Tk'Tk" won the Hugo Award, and he has been shortlisted for awards including the Hugo, Nebula, Campbell, and Sturgeon.