Posts Tagged 'Levinson'
A brand new "author's cut" Kindle edition of the 1999 Locus Award winning novel.
Featured Book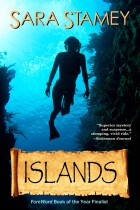 "Welcome to Paradise," archeologist Susan Dunne hears on arrival at the Caribbean island to research petroglyphs and investigate her brother's drowning. She follows dangerous clues in her psychic visions, leading to a violent cult and sunken treasure
Featured Member
Beth Cato
Beth Cato's debut steampunk novel THE CLOCKWORK DAGGER will be released by HarperCollins Voyager in September 2014. Her short stories appear in Beneath Ceaseless Skies, InterGalactic Medicine Show, and Nature. Her website is bethcato.com.