Posts Tagged 'Lyn Nichols'
Member News for Vera Nazarian and Lyn Nichols.
Featured Book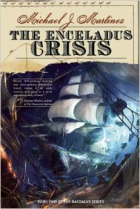 In this sequel to THE DAEDALUS INCIDENT, interdimensional intrigue rocks the solar system. In 2134, the first manned mission to Saturn is marred by an incursion from another universe, one where sailing ships ply the void between worlds.
Featured Member
Paul Levinson
Paul Levinson, PhD, wrote The Silk Code (winner of Locus Award for Best First 1st Novel of 1999), Borrowed Tides (2001), The Consciousness Plague (2002), The Pixel Eye (2003), The Plot To Save Socrates (2006), and Unburning Alexandria (2013)