Posts Tagged 'Lyn Nichols'
Member News for Vera Nazarian and Lyn Nichols.
Featured Book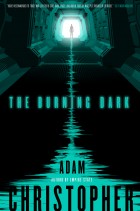 Once, Captain Abraham Idaho Cleveland saved an entire planet from a rampaging machine intelligence, but now he's stuck in a backwater space station — but he's got a surprising friend.
Featured Member
Rachael Acks
Rachael Acks is a author, geologist, and dapper sir who writes steampunk mystery and adventure novellas for Musa Publishing. She's also had numerous short stories published. She lives in Houston where the bikes, twirls her mustache, and dances.