Posts Tagged 'Lyn Nichols'
Member News for Vera Nazarian and Lyn Nichols.
Featured Book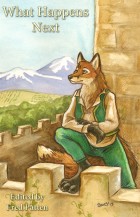 This collection of sequels to Ursa Major Award winning stories, edited by Fred Patten, features work from M.C.A. Hogarth and Michael H. Payne.
Featured Member
Karen L Azinger is the author of epic medieval fantasy, The Silk & Steel Saga. The first five books are published and getting great reviews, The Steel Queen, The Flame Priest, The Skeleton King, The Poison Priestess and The Knight Marshal.