Posts Tagged 'Lyn Nichols'
Member News for Vera Nazarian and Lyn Nichols.
Featured Book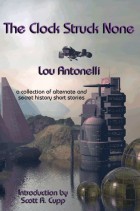 A collection of alternate and secret history short stories. From airships lost between universes, to golems winning the fight against racism, Lou Antonelli explains ways the world might have been. Includes Sidewise Award finalist "Great White Ship".
Featured Member
Amanda C. Davis
Amanda C. Davis is a combustion engineer and short-fiction author who bakes excellent macarons and watches terrible slasher movies. She tweets enthusiastically as @davisac1.