Posts Tagged 'M. J. Scott'
Industry News and Member News for M. J. Scott.
Featured Book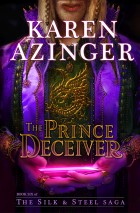 Deceive, divide, corrupt and conquer. Armies sharpen their weapons for a battle of swords while the Mordant engages in a battle of souls in this epic fantasy written in the style of Game of Thrones. Presenting book 6 of The Silk & Steel Saga.
Featured Member
Weston Ochse
Bram Stoker-winning Weston Ochse is the author of more than 20 books, including Grunt Life, SEAL Team 666, and Age of Blood. He is a military veteran with 30 years of service and has recently returned from a deployment to Afghanistan.