Posts Tagged 'M. J. Scott'
Industry News and Member News for M. J. Scott.
Featured Book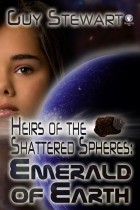 Emerald and her allies are all that stand between the annihilation of Humanity and an alien's plan to complete its 65 million-year-old mission.
Featured Member
Suzanne Church
Suzanne Church writes Science Fiction, Fantasy, and Horror because she enjoys them all and hates to play favorites. Her book "Elements: A Collection of Speculative Fiction" is published by EDGE SF & F Publishing.