Posts Tagged 'M. J. Scott'
Industry News and Member News for M. J. Scott.
Featured Book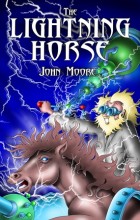 It's Frankenstein meets The Black Stallion when two teens and a mad scientist bring a champion racehorse back from the dead. But when it comes time to race, the horse has a mind of its own!
Featured Member
Larry Hodges
Larry Hodges is an active member of SFWA with 60+ story sales. His first novel "Sorcerers in Space" came out in 2013 from Class Act Books. He's an Odyssey Writers Workshop graduate and full-time writer with seven books and 1400+ published articles.