Posts Tagged 'M. J. Scott'
Industry News and Member News for M. J. Scott.
Featured Book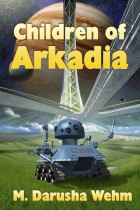 Arkadia, one of four space stations orbiting Jupiter, was to be a haven for all who fought the corrupt systems of Earth, where both humans and Artificial Intelligences could be happy and free. But which will prove more powerful: freedom or happiness?
Featured Member
Susan Forest
Two-time Prix Aurora Award finalist and winner of The Galaxy Project, Forest's stories appear in Analog, Asimov's, OnSpec, Beneath Ceaseless Skies, AE SF Review, and her collection, Immunity to Strange Tales. She edits for Edge Press.