Posts Tagged 'M. J. Scott'
Industry News and Member News for M. J. Scott.
Featured Book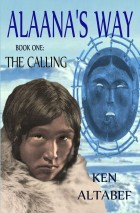 When Alaana is called upon to become shaman for her Anatatook people she faces vengeful ghosts and hungry demons in this epic adventure set in the arctic wastes. Book One of Five.
Featured Member
Larry Hodges
Larry Hodges is an active member of SFWA with 60+ story sales. His first novel "Sorcerers in Space" came out in 2013 from Class Act Books. He's an Odyssey Writers Workshop graduate and full-time writer with seven books and 1400+ published articles.