Nothing found
Featured Book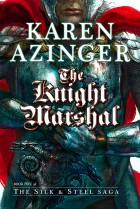 Sorely beleaguered, the Octagon Knights fight with valor, but this war is much more than a contest of swords…it is a battle of souls. The players are being positioned for the Battle Immortal, an epic struggle of Light and Dark.
Featured Member
Alma Alexander
Alma Alexander is a novelist, anthologist and short story writer who currently shares her life between the Pacific
Northwest of the USA (where she lives with her husband and a cat) and the wonderful fantasy worlds of her own imagination.