Posts Tagged 'mary hunter schaub'
Mary Hunter Schaub
(June 28, 1943 – September 25, 2009)
Featured Book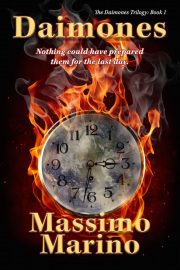 Murder, genocide, the Apocalypse.
Explore the future of humanity in Massimo Marino's sci-fi debut, Daimones, an apocalyptic tale that feels like it could happen tomorrow. You may never sleep through a windstorm again.
Featured Member
Edward M. Lerner
Edward M. Lerner worked in high tech for 30 years, supporting (among many) NASA, the DoD, and the FBI. When not prospecting beneath his sofa cushions for small change for his first spaceflight, he now writes SF, technothrillers, and popular science.