Nothing found
Featured Book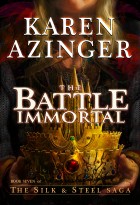 The Battle Immortal is a time when long-foretold prophecies live and die, when magic runs wild, and legends clash with nightmares. This fast-paced epic fantasy is the 7th and final book to The Silk & Steel Saga.
Featured Member
Michael R. Underwood
Michael writes across the speculative fiction world, from urban fantasy (Geekomancy), to fantasy superhero novel Shield and Crocus, and the SF series in novellas, Genrenauts. He is a co-host on podcasts The Skiffy & Fanty Show and Speculate.
Recent Comments