Posts Tagged 'Mitch Wagner'
Eight essential questions answered by the pros for beginning writers.
Featured Book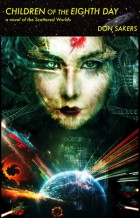 Rikk Hoister and his cousins are the pinnacle of human evolution, cloned geniuses with powerful paranormal abilities. Life is good–until ships and soldiers of the Terran Empire invade their homeworld and take most of the Hoister Family captive.
Featured Member
Amanda C. Davis
Amanda C. Davis is a combustion engineer and short-fiction author who bakes excellent macarons and watches terrible slasher movies. She tweets enthusiastically as @davisac1.