Posts Tagged 'query letters'
Lynn Flewelling writes on the basics of query letters.
Featured Book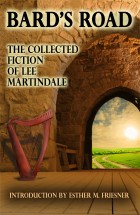 Twenty-nine short stories by Lee Martindale, including reprints from major anthologies and four never-before-published works. Introduction by Esther M. Friesner, cover art by Melanie Fletcher.
Featured Member
Vylar Kaftan
Vylar Kaftan has published about 40 short stories in places such as Asimov's, Clarkesworld, and Lightspeed. She was nominated for a Nebula in 2011. She's the founder of FOGcon, a new sf/f literary convention in the San Francisco Bay Area.