Nothing found
Featured Book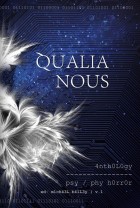 A literary blend of science fiction and horror, Qualia Nous contains short stories, novelettes, and poetry from established authors and newcomers from around the world. Featuring the imaginations of Stephen King, Gene O'Neill, William F. Nolan, and others.
Featured Member
Dave Creek
Dave Creek is a regular contributor to ANALOG. His books include two short story collections — A GLIMPSE OF SPLENDOR and THE HUMAN EQUATIONS — and a novel, SOME DISTANT SHORE.
Find out more about Dave's work at www.davecreek.net.