Nothing found
Featured Book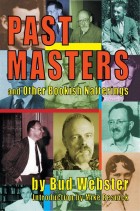 Past Masters and Other Bookish Natterings collects some of the very best of Bud Webster's columns and author profiles drawn from a broad knowledge of the field of literary science fiction and fantasy.
Featured Member
Wesley Chu
Wesley Chu was born in Taiwan and immigrated to Chicago, Illinois when he was just a pup. It was there he became a Kung Fu master and gymnast.
Wesley is an avid gamer and a contributing writer for the magazine Famous Monsters of Filmland. A former stunt man and a member of SAG, he can also be seen in film and television.