Posts Tagged 'SFWA Officers'
Results from the SFWA election have been announced.
Featured Book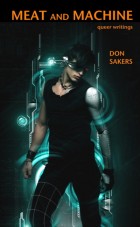 Don Sakers has been queering science fiction and fantasy for three decades. Meat and Machine collects 24 short pieces of science fiction, fantasy, nonfiction, and erotica from across his career.
Featured Member
David Lee Summers
David Lee Summers is an author whose writing spans a wide range of the imaginative from science fiction to steampunk to horror. When he's not writing, he operates telescopes at Kitt Peak National Observatory.