Posts Tagged 'SFWA Officers'
Results from the SFWA election have been announced.
Featured Book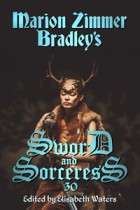 This volume of the anthology series, edited by Elisabeth Waters and now in its third decade of publication, includes stories by Robin Wayne Bailey, Deborah J. Ross, Michael H. Payne, Catherine Soto, and many others.
Featured Member
Kay Kenyon
Kay Kenyon is the author of 11 sf/f novels including her fantasy, A Thousand Perfect Things, August 2013. Her work has been short-listed for the Philip K. Dick Award and John W. Campbell awards.