Posts Tagged 'SFWA Officers'
Results from the SFWA election have been announced.
Featured Book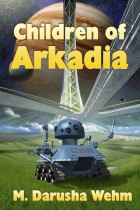 Arkadia, one of four space stations orbiting Jupiter, was to be a haven for all who fought the corrupt systems of Earth, where both humans and Artificial Intelligences could be happy and free. But which will prove more powerful: freedom or happiness?
Featured Member
Beth Cato
Beth Cato's debut steampunk novel THE CLOCKWORK DAGGER will be released by HarperCollins Voyager in September 2014. Her short stories appear in Beneath Ceaseless Skies, InterGalactic Medicine Show, and Nature. Her website is bethcato.com.