Posts Tagged 'SFWA Officers'
Results from the SFWA election have been announced.
Featured Book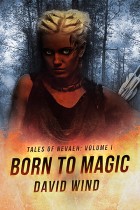 Long ago, a mythical nation known as 'America' died in the violence and radiation of the terrorist wars. Now the survivors dwell in a world of ritual and magic where ten dominions struggle for supremacy while a dark power rises to threaten them all.
Featured Member
Jim C. Hines
Jim Hines writes books about magic librarians, action-hero princesses, nearsighted goblins, flaming spiders, and more. (Generally not all in the same book.) He's also sold close to 50 short stories.