Posts Tagged 'Shannon Phillips'
Member News for Joan Marie Verba and Shannon Phillips!
Featured Book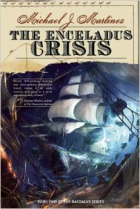 In this sequel to THE DAEDALUS INCIDENT, interdimensional intrigue rocks the solar system. In 2134, the first manned mission to Saturn is marred by an incursion from another universe, one where sailing ships ply the void between worlds.
Featured Member
Mindy McGinnis
Mindy McGinnis is an assistant YA librarian who lives in Ohio. She graduated from Otterbein University magna cum laude with a BA in English Literature and Religion. Her debut Cli-Fi novel, NOT A DROP TO DRINK was published in 2013 by Harper Collins.