Nothing found
Featured Book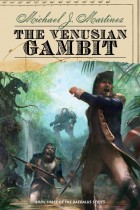 In the thrilling conclusion to the DAEDALUS trilogy, Lord Admiral Thomas Weatherby must defy the English crown and battle the French on Venus in order to stop an ancient evil from rising once more.
Featured Member
Dave Creek
Dave Creek is a regular contributor to ANALOG. His books include two short story collections — A GLIMPSE OF SPLENDOR and THE HUMAN EQUATIONS — and a novel, SOME DISTANT SHORE.
Find out more about Dave's work at www.davecreek.net.