Posts Tagged 'Susan Shwartz'
Eight essential questions answered by the pros for beginning writers.
Featured Book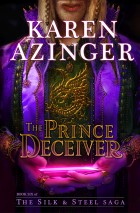 Deceive, divide, corrupt and conquer. Armies sharpen their weapons for a battle of swords while the Mordant engages in a battle of souls in this epic fantasy written in the style of Game of Thrones. Presenting book 6 of The Silk & Steel Saga.