Nothing found
Featured Book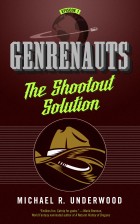 Episode 1 of Genrenauts, a series in novellas set in a multiverse where each other dimension is the home of a story genre (Western, SF, Romance, etc.). The Genrenauts travel between dimensions to find & fix broken stories to protect their home world.
Featured Member
Alma Alexander
Alma Alexander is a novelist, anthologist and short story writer who currently shares her life between the Pacific
Northwest of the USA (where she lives with her husband and a cat) and the wonderful fantasy worlds of her own imagination.