Nothing found
Featured Book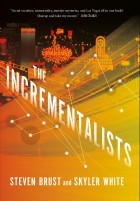 They cheat death, share lives and memories, and communicate across nations and time. They have an epic history, an almost magical memory, and a very modest mission: to make the world better, a little bit at a time.
Featured Member
Wesley Chu
Wesley Chu was born in Taiwan and immigrated to Chicago, Illinois when he was just a pup. It was there he became a Kung Fu master and gymnast.
Wesley is an avid gamer and a contributing writer for the magazine Famous Monsters of Filmland. A former stunt man and a member of SAG, he can also be seen in film and television.