Nothing found
Featured Book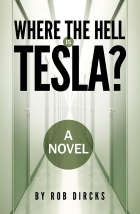 Sci-Fi odyssey. Comedy. Love Story. And of course… Nikola Tesla. "★★★★★ Perhaps the Funniest and Best Audiobook on Audible!" Join Chip and Pete as they stumble into Tesla's interdimensional portal. Can these idiots save the multiverse?
Featured Member
Alma Alexander
Alma Alexander is a novelist, anthologist and short story writer who currently shares her life between the Pacific
Northwest of the USA (where she lives with her husband and a cat) and the wonderful fantasy worlds of her own imagination.