Nothing found
Featured Book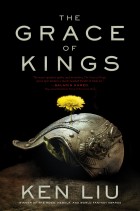 A silkpunk epic fantasy featuring a nobleman and a bandit who rebel together against tyranny only to find themselves on opposite sides of an ideological divide about the meaning of justice and honor.
Featured Member
Dave Creek
Dave Creek is a regular contributor to ANALOG. His books include two short story collections — A GLIMPSE OF SPLENDOR and THE HUMAN EQUATIONS — and a novel, SOME DISTANT SHORE.
Find out more about Dave's work at www.davecreek.net.