Posts Tagged 'Vctoria Janssen'
Member News for Jennifer Brozek, Cherie Priest, and Vctoria Janssen!
Featured Book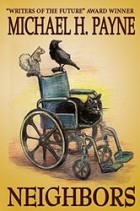 Gus Lancer's peculiar neurological condition has paralyzed him from the waist down and strangled his speech, but he's recently discovered that he can apparently communicate with animals.  This leads him into more adventures than he expects.
Featured Member
Lou Antonelli
Lou Antonelli is a modern speculative fiction author with classic sensibilities, honed by a long career as a newspaperman. His short story "Great White Ship" was a 2013 finalist for the Sidewise Award. He's had 81 short stories published since 2003.