Nothing found
Featured Book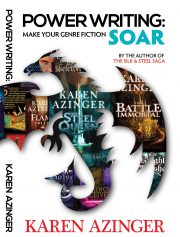 Learn how to write bold genre fiction that will enthrall your readers. Novice writers learn about 'tells' that warn agents of amateur writing. Veterans discover the flavors of world building and description from the eye of the beholder.
Featured Member
Marshall Ryan Maresca
Marshall Ryan Maresca is a fantasy and science-fiction writer, as well as a playwright, living in South Austin with his wife and son. He is the author of The Thorn of Dentonhill and A Murder of Mages.