Nothing found
Featured Book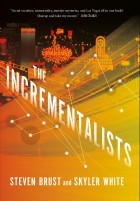 They cheat death, share lives and memories, and communicate across nations and time. They have an epic history, an almost magical memory, and a very modest mission: to make the world better, a little bit at a time.
Featured Member
Alma Alexander is a novelist, anthologist and short story writer who currently shares her life between the Pacific
Northwest of the USA (where she lives with her husband and a cat) and the wonderful fantasy worlds of her own imagination.